Accommodations
Japan abounds in accommodations, both western-style and domestic. Types of accommodation vary widely in terms of style and price. You can choose to stay in the familiar comforts of a western-style hotel, or enjoy the comfort and personal attention of a traditional Japanese inn. By taking advantage of the extensive advice available from JNTO and taking some time to search out some of the nation's less-publicized types of lodgings, you're sure to find clean and comfortable places to stay that suit your pocketbook.
It is advisable to book your accommodation through a travel agent before coming to Japan, if possible. Another possibility is to ask for a room at the Hotel Reservation Counter in the arrival lobby of Narita Airport.
■Western-style Hotels
All of Japan's cities have plentiful western-style hotels, with famous-name chains well represented in all larger cities. Particularly in these hotels, the staff will speak English. Especially in peak tourist seasons, it is best to book far in advance.
Over 200 member hotels of the Japan Hotel Association (JHA) have consistently high standards of service and facilities. These hotels will generally have western restaurants, though better-quality Japanese restaurants are also common within them. Some hotels also have a few Japanese-style rooms as well as beautifully landscaped gardens on their grounds.
The majority of these hotels will have the same amenities as any western establishment, including the basics of heating, TVs, air conditioning and swimming pools, with the possible additional services of interpreters and shopping centers. While the prices in hotel restaurants tend to be more expensive than elsewhere, larger hotels may offer as many as 10 separate eateries, with both western and various types of Japanese cuisine represented.
In Tokyo, a few deluxe hotels now have unique "executive salons" for their guests on international business. For premium rates, these salons provide complimentary secretarial services, including access to computers and facsimile transmission equipment. Most of Tokyo, Osaka, Kyoto, Kobe and Sapporo's deluxe and first-class hotels have direct airport connections in the form of limousine buses.
For example, in Tokyo, single rooms at first-class hotels are from a low of ¥15,000 to ¥30,000 for a single with bath, and ¥25,000 to ¥45,000 for a twin with bath. The entire accommodation charge per person per night is subject to a tax of 5% plus ¥100 daily when ¥15,000 or less, or 5% plus ¥200 dayly when over ¥15,000. Service charges are 10% at first-class and deluxe hotels.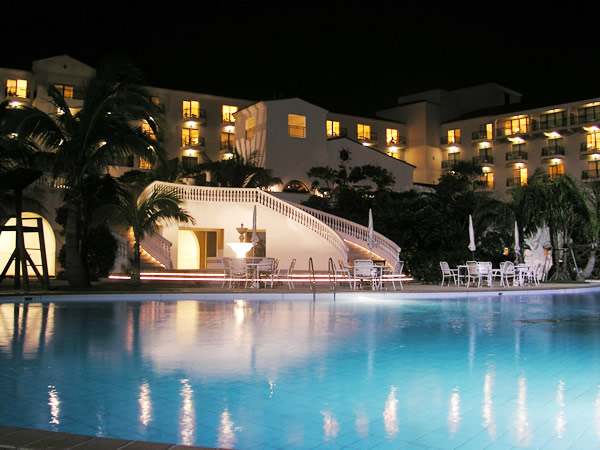 ■Business Hotels
One fairly recent addition to Japan's lodgings which the cash-conscious tourist will appreciate are business hotels. Found in all major cities and many mid-sized ones, business hotels are no-frills lodging aimed mainly at traveling Japanese businessmen. Generally clean and comfortable, these hotels are usually smaller and offer much fewer amenities than their upscale brethren––don't expect room service, for example. But most hotels offer drink and snack machines on each floor, and usually have a restaurant on the premises. Furniture and style are western, with individual baths being the rule.
Business hotels are most commonly found conveniently close to train stations. English is usually not spoken at these hotels, but check-in and-out procedures are the same ones you'll be familiar with from home. Charges will average about ¥5,500~10,000 per person; rooms usually come only as singles.
■Ryokan
For a stay in the same Japan as experienced by the most elegant Daimyo of bygone days, a night in a Ryokan, or Japanese inn, is a must. A room in a Ryokan is usually a single large, undivided room floored with traditional ricestraw Tatami matting, with only a single low table as furniture. Doors are Shoji screens, and decoration will usually be one or two simple ink brush drawings or scrolls. Guests sleep on Futon bedding laid out in the evening by maids.
Most Ryokan will have a communal bath, which is generally for separate sex bathing. Numerous superb hotspring resorts, known as Onsen, are in fact Ryokan built on the site of a hot spring. Your room charge will include one meal, invariably a feast of delicious, locally found ingredients, and a simple breakfast. Ryokan meals are generally served by the maid in the guest room. After the meal, your maid will return and clear your table, and then lay out your Futon. The typical lounging wear of a Ryokan, a blue and white-patterned cotton robe called Yukata, is also provided.
In partaking of all that is considered elegant and refined in gracious living in Japan, a stay in a Ryokan requires following a few rules that differ from western hotels. For one thing, guests remove their shoes at the threshold of the inn and don slippers while in its hallways. These slippers are in turn left outside the guestrooms: only bare feet or stockinged feet are allowed to tread on Tatami.
When bathing in a Japanese communal bath, always scrub down before dipping in at provided spigots, taking care to wash off all soap suds. Japanese baths are for soaking, not scrubbing, and are an ideal place for warm, relaxed talks between good friends––or even total strangers. Japanese bathers will often alternate scrubbing with soaking to stretch out the pleasure and benefits of a hot bath as long as possible.
Ryokan are found all across Japan, though for the best experience, you'd be wise to seek out one in a quiet residential district. Most Ryokan are small buildings of no more than a dozen or so rooms, often built facing a small garden. There are some 80,000 Ryokan in Japan, of which more than 2,100 are quality establishments belonging to the Japan Ryokan Association.
Although Ryokan rates vary greatly, with a few very exclusive establishments charging high rates, charges are usually in the range of ¥15,000 to ¥25,000 per person, including two meals and excluding tax and service charges.
For the budget traveler, Japan isn't a complete disaster. Some 80 inns belong to the Japanese Inn Group, which specializes in welcoming visitors from abroad. These inns are also quite economical, with room rates averaging around ¥5,000 per person, excluding meals. JNTO has listings of all these inns, which are scattered throughout Japan.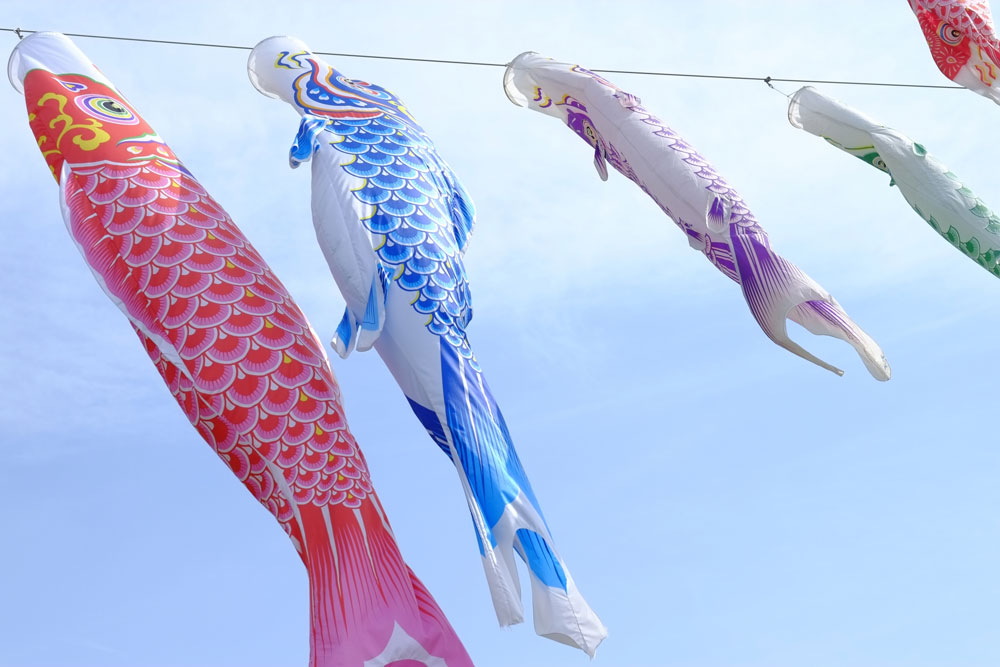 ■Minshuku
Another unusual way to cut costs while traveling in Japan, as well as have a chance to get below the surface of the daily life you're passing through, is to check into a Minshuku. The Japanese equivalent of guest-home type lodgings, Minshuku are family-run businesses, with the rooms rented out being part of the owners' own home. They are often found in choice resorts and vacation spots, and feature moderate rates.
As befits their "home industry" status, Minshuku offer considerably fewer amenities than strictly professional establishments. Guests, for example, are expected to fold up their bedding in the morning and stow it away in a closet, just as a family member would. Minshuku also don't provide the kinds of courtesies you can expect from a hotel or Ryokan, such as towels and Yukata.
Minshuku costs are usually about ¥5,000, which include two meals, usually served family style. JNTO recommends approximately 300 Minshuku for overseas visitors.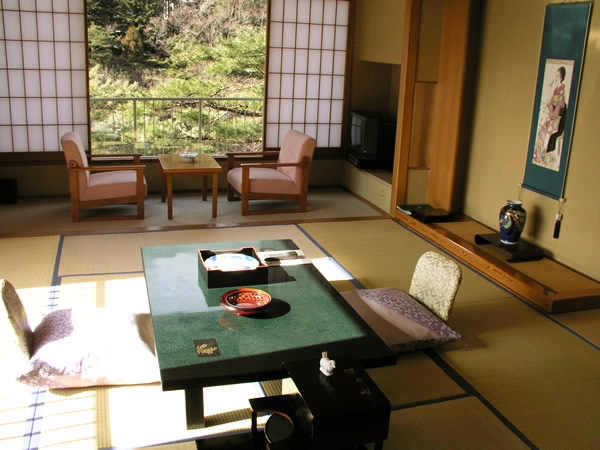 ■Pensions
Usually found in areas popular for sports, such as near ski resorts and in mountains, pensions are often run by younger people. They will also often be near sports facilities like boating, swimming, tennis, hiking and cycling trails and so on.
Pensions are not set up for foreign guests especially, but their open-spirited philosophy and unrestricted management styles are usually very accommodating to anyone who's adaptable. Their accommodations generally fall somewhere between the homey atmosphere of a Minshuku and the more pampered amentities of a hotel.
The average cost for one night, without meals, is ¥6,500; or ¥8,000 with two meals. JNTO has a list in English of pensions recommended for foreigners.
■Other Accommodations
Even more off the beaten track are Buddhist temples, some of which take in overnight guests. While some temples will allow guests to join in Zazen meditation, others provide the rooms simply as space for paying guests.
There are some 420 Youth Hostels in Japan, offering clean and simple places to sleep at very low rates. A number of them are open to the public. But others are privately run and require membership in Japan Youth Hostels, Inc., or the International Youth Hostel Federation. You can join the latter either in your home country or through its Tokyo national headquarters. If not a member, you can buy a Welcome Stamp for ¥600.
Despite the name, there are no age limits on youth hostel guests. Compared with other forms of accommodation, however, there are many more regulations. A youth hostel will usually cost about ¥2,300 per person, without meals.
In a number of popular resorts and parks, local authorities have established guest houses called People's Lodges, which are very reasonable at about ¥6,500 a night per person, with two meals.
Welcome Inn Reservation Center: The Center, set up by JNTO, makes bookings for accommodations that cost less than ¥8,000 per person a night. About 340 "Welcome Inns" in various cities, ranging from Ryokan and Minshuku to business hotels, pensions and People's Lodges, participate in the program.
For a list of "Welcome Inns" and the reservation procedure, contact your nearest JNT0 office.